There are still many species that have not been revealed on earth, including in the Greater Mekong.
River delta stretches along Southeast Asia, which is tipped in the Himalayan highlands.
Since 2010, researchers who have explored forests, rivers, wetlands, and islands in ecosystems that have disappeared from the Mekong Delta have uncovered surprising discoveries of 208 new species.
[caption id="attachment_8" align="aligncenter" width="271"]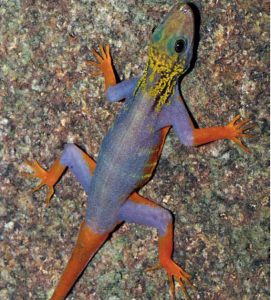 Found on an island in Rach Gia Bay, Vietnam, this new wild gecko is named Cnemaspis psychedelica[/caption]
A report by the World Wide Fund for Nature (WWF) highlights a number of species, from snub-nosed monkeys, carnivorous plants, to cloned lizards, all of which are female. The report also reminds us that much of the wildlife might soon disappear because the Mekong Delta is experiencing massive deforestation, hunting, development projects, mangrove damage, pollution, climate change, and rapid population growth.
The Greater Mekong region includes five countries in Southeast Asia; Cambodia, Laos, Vietnam, Thailand and Myanmar- and Yunnan Province (China); the region is very rich in wildlife and habitat for Asian elephants (Elephas maximus), Indochina tigers (Panthera tigris corbetti), and giant Mekong catfish (Pangasianodon gigas). Scientists recently discovered more than 17 new species each month, consisting of 28 reptiles, 25 fish, 145 new plants, 2 mammals, 7 amphibians, and 1 bird in 2010.
[caption id="attachment_27" align="aligncenter" width="300"]

Tylototriton notialis is a new lizard species found in Laos, the first of the genus in this country[/caption]
Rebecca Ng from WWF's Greater Mekong Program WWF said, "This report is also a confirmation of what we already know, that the Great Mekong has extraordinary natural diversity, and what needs to be done to save them," "This extraordinary diversity and wealth can be lost if the government does not want to realize and understand that protecting biodiversity is a long-term investment. Especially in the face of changes in the global environment. "
Although forests and wetlands in the Mekong Delta provide fresh water and food for hundreds of millions of people, destruction and threats to biodiversity and ecosystems continue. Forests are converted for plantations, mangroves are destroyed for aquaculture, dams are built on rivers, and wildlife is exploited for meat and traditional medicine.
[caption id="attachment_9" align="aligncenter" width="300"]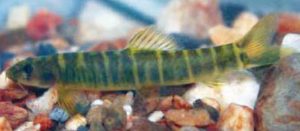 In all the Mekong regions, it is the highest diversity of freshwater fish in the world, with more than 850 known species. One of them is this freshwater fish and is a species of loach (Schistura udomritthiruji).[/caption]
One sign of the extinction of animals here is the extinction of the Vietnamese rhino (Rhinoceros sondaicus annamiticus), subspecies of the Javan rhino, the last rhino in mainland Southeast Asia. The death of the rhino by hunters also marks the end of one of the region's last megafauna, and it may be a sign that Indochinese tigers and giant Mekong catfish may soon become extinct.
The report also highlights changes in the region due to climate change, which shifts rainfall patterns, causing more extreme floods and also drought.
"Only intact, healthy and diverse natural ecosystems can provide resilience to climate change while ensuring sustainable access to water, energy, food, commodities, and livelihoods for more than 300 million people," the report writes.
[caption id="attachment_12" align="aligncenter" width="300"]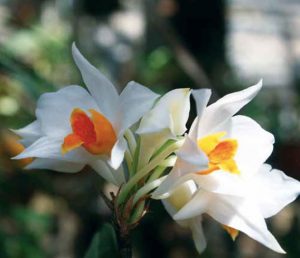 Dendrobium daklakense is a new orchid from one of 16 new orchids found in the Mekong region.[/caption]
Indo-Burmese forests, listed as the most threatened forest hotspot in the world, including the Great Mekong, this was stated in 2009 by Conservation International (CI). According to the organization, only five percent of the forests in the region are intact.
Read More